Better shape now than 10 years ago
I've somehow trained most of my life so training comes easy to me; however, I've never had a workout plan or coach.  I received a customized plan for downhill skiing and injury rehabilitation. I feel that I am in better shape now, than 10 years ago training for a marathon. Whether you're an athlete or someone who simply wants to get in shape, you can change your life with Reactivated.
Richard Guay
Exceptional trainer and coach!
Jenny Brown has changed the way I think about working out and age. Thanks to her incredible coaching I am now looking forward to turning 60 this year with a very positive attitude. I came to Jenny overweight and in pain from past injuries (broken neck, jaw, both ankles, plateau tibia fracture, total left hip replacement, and shoulder pain from playing golf ). In 7 months I have taken off 20 lbs and feel totally pain free. Most importantly my attitude has been changed. I realize I can be at fit as I want to be. Age and injuries are not a barrier. "At 80 I want to be at the gym still working out".
I have had trainers on and off over the past 20 years. I thought they were good but you have blown them out of the water!
• You LISTEN!!
• You are as attentive on my 50th workout as you were on my first.
• You come to ever session prepared.
• You take notes at very workout.
Betty
120k walk at 82!
I am an eighty two year old who ran and raced for most of my adult life until I was forced to give it up at sixty five, by which time I had worn out the cartilages in my knees and developed chronic back problems.
I started exercising with Reactivated in March with a goal to walk the last one hundred and twenty kilometers of the Camino a Santiago de Compostela.
We completed the walk without a problem despite the very hilly nature of the trail.
I intend to continue training and recommend Reactivated training services unreservedly.
John Rednall
The Path of Wellness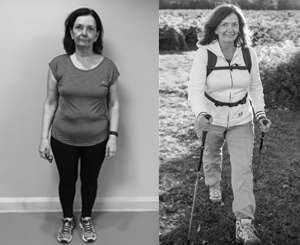 Rachel started her fitness plan this summer to decrease pain and ultimately prepare for downhill ski season.   With a dedication to her Reactivated training program and postural changes, Rachel's major neck pain and headaches ceased!   Rachel has made a wellness comeback which has included hiking 10km mountain in BC!     She is ready for ski season!
The Power of Coaching
I am a recreational, but enthusiastic, cyclist who enjoys mountain and road cycling.  I am impressed by the "power" of coaching – after 3 or 4 sessions with the Reactivated Team I can see improvement immediately. Most recently a couple of adjustments in technique under Jenny's watchful eye allowed me to both ascend a hill I had never made it up before, and establish 3 of my top 4 times on the final ascent of the Paris to Ancaster race – simple changes and support have led to noticeable improvements in my abilities and vital to my enjoyment of cycling.  Building on that success,  I rode across cancer raising money and awareness for kids with cancer.
Mark Crowther, MD, MSc, FRCPC
Vice President, Research, St Joseph`s Healthcare System
Chief of Laboratory Medicine, Hamilton Health Sciences
and St Joseph`s Healthcare
Professor of Medicine and Pathology & Molecular Medicine
Leo Pharma Chair in Thromboembolism
Career Investigator, Heart and Stroke Foundation of Ontario
Golf Game Improving
Reactivated got me started with walking, then biking, and regular workouts which were particularly helpful after two rotator cuff surgeries.  I added a gym to our home with three workouts per week aimed at strengthening for my relatively recently acquired sport of golf since my retirement.  I have enjoyed the benefits of a healthier lifestyle that Jenny Brown has given me for the past ten years. I feel as great as I ever have and my golf game is continually improving because of my "Reactivated"  fitness.  Looking forward to the next decade!
Dr. John Doucet, Retired Orthodontist
Police PREP
"I've always wanted to be physically fit but life always found a way to distract me. I made a decision last year that it was time for a change and bought myself a used home gym. I had no idea what exercises to start with to get the results that I wanted and I was overwhelmed.
Jenny Brown of Reactivated propelled me forward with her easy-to-follow fitness program that took all the guess work out of a workout routine. I was able to fit it into my busy life and I saw real results.  A year ago I was a guy that could barely do 2 push-ups and now I passed the police physical Physical Readiness Evaluation for Police (PREP)! What a difference a year can make. Thanks Jenny for helping me to change my life!"
Brad Andrews