At 63 years old, I think about the inner voices that we all have and how they influence our actions. When the first lockdown went into effect I remember feeling severed from everything that made up my daily life and rushing to fill the void with other things that were no where near as good for me. Latin dancing, scuba diving, working out at the gym were all unavailable and there was no end in sight. A kind of hopeless feeling set in, probably depression; I gained weight and didn't like what I saw in the mirror.
That's where the little voice in my head kicked in and I asked myself "what are you going to do about it?"

I knew Mom was working with you and she is an amazing representation of age defied. You conducted a thorough assessment of where I was, where I wanted to be, what I enjoyed and what was not so motivating for me and created a plan to help me reach those goals.
I learned that I didn't need to be at the gym. You designed movements using simple equipment; a yoga mat, stability ball, bosu, tension bands and later a kettlebell that challenged my body, increased my stamina and improved my overall fitness. The exercises are creative. Most importantly, I feel energetic and happy when I'm doing them. I also learned a lot more about nutrition and began focusing on healthier foods, experimented with gluten-free flours, whole grains, lots of fresh fruit, vegetables, legumes and some pretty creative and satisfying salads.
My energy level increased, I started walking an hour every morning before work and gradually, I tried on some of my 'pre-COVID' clothes, and they fit!

Fast forward, one year later…. The studio is open and I'm dancing again. International travel opened up and we went to the Caribbean. I booked three scuba trips, and when I got into the water after two years, it felt like no time had passed. I saw lots of sea turtles, green and lacy moray eels, lobsters, rays, corals, angel fish, surgeon fish, and the parrot fish were exquisite. To top it all off, my air consumption was just as good as it was 35 years ago.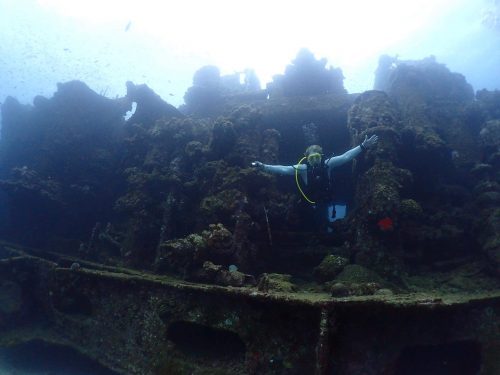 My retirement goal is to be a Dive Master and I'll be doing my certifications this coming spring while on a live-aboard dive boat. Lots of adventures to come!
Susanne